Take a glimpse into the modern landscape of our dietary habits, where we explore the new 'age of eating' which has dominated our dinner tables for the past 150 years.
The industrialisation and commercialisation of food have transformed our diets, whereby most of our calories now come from an entirely novel set of substances. Ultra Processed Food (UPF) now makes up 60% of the average diet in the UK and USA. It is highly processed, highly addictive, and largely unhealthy.
Join award-winning broadcaster, practising NHS doctor and leading academic Chris van Tulleken as he explores the invention of UPF and its impact on our health and weight – from altering metabolism and appetite to an increased risk of cardiovascular disease and tooth decay.
Chris uncovers the limitations of relying solely on exercise and willpower to combat the health risks of high UPF diets. Drawing on his own experiment of eating an 80% UPF diet for one month he will provide solutions for both individuals and policymakers to challenge this unregulated industry.
Copies of Chris' latest book' ULTRA-PROCESSED PEOPLE: Why Do We All Eat Stuff That Isn't Food… and Why Can't We Stop?' will be available to purchase after the talk.
Event type
This is a theatre event for an adult audience, where the speakers and audience are together in our Theatre.
This event will not be livestreamed.
By booking to attend events at the Royal Institution, you confirm that you have read and accept the Ri's event terms and conditions. You also agree to abide by our code of conduct, and help to create a great experience for yourself and your fellow participants. 
About Chris van Tulleken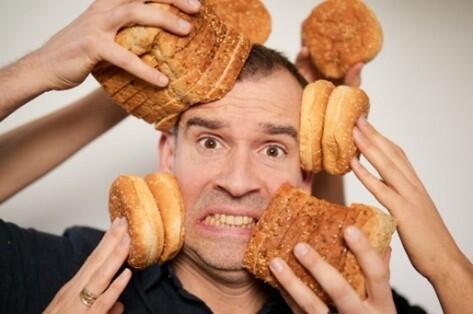 Chris van Tulleken is an infectious diseases doctor at UCLH and one of the UK's leading science broadcasters. He has won two BAFTAs for his long-running CBBC series Operation Ouch, co-presented with his twin brother Xand, and hosted numerous programmes across the BBC. Following his BBC One documentary 'What Are We Feeding Our Kids?' and the chart-topping podcast 'A Thorough Examination – Addicted to Food', Chris has become the UK's go-to expert on ultra-processed food.
Chris trained at Oxford and has a PhD in molecular virology from University College London, where he is now an Associate Professor. His research focuses on how corporations affect human health, especially in the context of nutrition.
Timing
Doors to the theatre will open at 6.30pm. The event will begin at 7.00pm.
Accessibility
The event will take place on the first floor and there is step-free access from the street via lift.
The closest underground station is Green Park, which is step-free.
There is space at floor level in the theatre for wheelchair users.
Seating is usually unreserved for our events. If you and your group require seating reservations, please do let us know by emailing us at events@ri.ac.uk, and we'll be more than happy to help.
Carers can receive a free ticket to an event by emailing events@ri.ac.uk.
Our theatre is equipped with an Audio Induction Loop. 
Covid guidelines
In line with government guidance, face masks are no longer mandatory and wearing one in our Theatre and at Ri events is at your discretion. Please do continue to observe other Covid-secure measures, such as maintaining a social distance, wherever possible.
Please do not attend the Ri if you are displaying Covid-symptoms and/or are still returning a positive test.
Thank you for respecting other people and their choices, and for helping us keep all of our visitors and staff safe and well.
Event terms and conditions
Booking conditions
Public events
Livestream events
Holiday workshops
Attending Ri events
Events that supersede these terms and conditions