Arriving fresh from Sunny Australia, join Dr Karl for an amusing night of unusual science, curious mysteries and more.
Back for his twelth trip to the Ri, we are excited to welcome back our favourite Australian science presenter Dr Karl Kruszelnicki. Dr Karl is famous the world over for his unique ability to communicate the whole world of science with humour, warmth and irreverence.
How much blood will your heart pump in an average lifetime? What happens to all the rubber that wears off your tyres? How did a plane, with human crew, keep flying for a few months without air-to-air refuelling? Find out the answers to these puzzling condundra and more - you are sure to be entertained and educated in roughly equal measure! 
This event is particularly suitable for ages 13+. As with all our family theatre talks, this event is designed to be enjoyed by adults and children together. All young people under the age of 13 need to be accompanied by a paying adult and those aged 4 and above need a ticket to attend.
Event type
This is a theatre event where the speakers and audience are together in our Theatre.
This event will not be livestreamed.
By booking to attend events at the Royal Institution, you confirm that you have read and accept the Ri's event terms and conditions. You also agree to abide by our code of conduct, and help to create a great experience for yourself and your fellow participants. 
Timing
The doors will open at approximately 5.30pm, with a prompt start at 6.00pm.
Latecomers will be admitted into the gallery.
About Dr Karl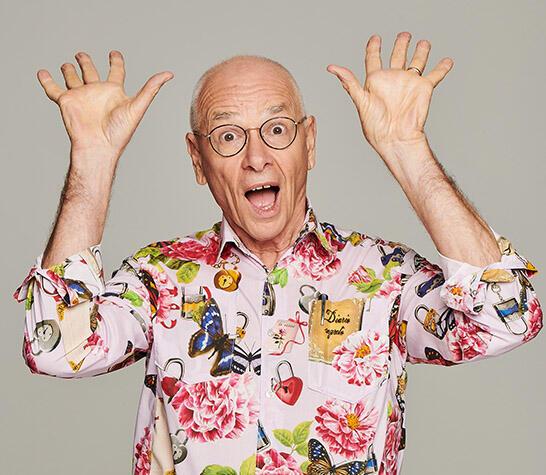 Dr Karl Kruszelnicki is an Australian science populariser with insatiable curiosity. He has degrees in Physics and Maths, Biomedical Engineering, Medicine and Surgery and has held a wide range of jobs, from doctor to film-maker, radio personality to labourer, car mechanic to physicist. He has written 47 books to date and plans to write a few more. He also popularises science on ABC radio stations across Australia and, on the BBC, for several hours each week. 
Dr Karl Kruszelnicki received the Member of the Order of Australia Award in the 2006 Australia Day Honours list. In 2012 Karl was delighted to have Asteroid 18412 named after him. Asteroid Dr Karl/18412 was discovered by Robert H. McNaught at the Siding Spring Observatory in Coonabarabran, New South Wales, Australia, on June 13, 1993. In March 2012 he was named as a National Living Treasure by the National Trust of Australia (NSW). In 2019 The United Nations awarded Dr Karl the UNESCO Kalinga Prize for the Popularisation of Science.
Covid guidelines
Face masks are no longer mandatory and wearing one in our Theatre and at other Ri events is at your discretion, however please do not attend the Ri if you are displaying Covid symptoms or, if you have tested, the result remains positive. Thank you for respecting other people and their choices, and for helping us keep all of our visitors and staff safe and well.
Accessibility
The event will take place on the first floor and there is step-free access from the street via lift.
The closest underground station is Green Park, which is step-free.
There is space at floor level in the theatre for wheelchair users.
Seating is usually unreserved for our events. If you and your group require seating reservations, please do let us know by emailing us at events@ri.ac.uk, and we'll be more than happy to help.
Carers can receive a free ticket to an event by emailing events@ri.ac.uk.
Our theatre is equipped with an Audio Induction Loop. 
Event terms and conditions
Booking conditions
Public events
Livestream events
Holiday workshops
Attending Ri events
Events that supersede these terms and conditions