We encounter spiders often (whether we like it or not!), but how much do we really know about them? There are many unseen secrets in their genetics – ranging from flight to medical applications – waiting to be uncovered once we scratch the surface. 
Join Sara Goodacre, founder of SpiderLab and professor in evolutionary biology and genetics in an evening exploring the diversity of spiders – much of which cannot easily be seen. 
Drawing upon her work as a research scientist, Sara takes us on a journey of fascinating research including the creation of chemically 'decorated', artificial spider silks that could be used for drug delivery, wound healing and regenerative medicine. She will also describe studies on who is winning when it comes to spiders and the intracellular microbes that hitch a ride inside them, and attempt to answer the question of what makes a spider fly?
Event type
This is a theatre event for an adult audience, where the speakers and audience are together in our Theatre.
This event will not be livestreamed.
By booking to attend events at the Royal Institution, you confirm that you have read and accept the Ri's event terms and conditions. You also agree to abide by our code of conduct, and help to create a great experience for yourself and your fellow participants. 
About Sara Goodacre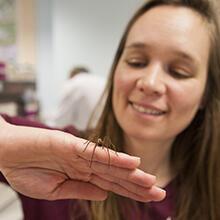 Sara L. Goodacre is a research geneticist and Professor of Evolutionary Biology and Genetics at the University of Nottingham and currently serves as an Editor-in Chief for the Journal Heredity. She was the lead at Nottingham for the Open-Air Laboratories project, a citizen science project that engaged people with the outdoor environment. She works to make people less frightened of spiders, and to engage the public in increasing knowledge about the UK's biodiversity. She is vice President of the European Society for the Study of Arachnology.
Timing
Doors to the theatre will open at 6.30pm. The event will begin at 7.00pm.
Accessibility
The Theatre is on the first floor and there is step-free access from the street via lift.
The closest underground station is Green Park, which is step-free.
There is space at floor level in the theatre for wheelchair users.
Seating is usually unreserved for our events. If you and your group require seating reservations, please do let us know by emailing us at events@ri.ac.uk, and we'll be more than happy to help.
Carers can receive a free ticket to an event by emailing events@ri.ac.uk.
Our theatre is equipped with an Audio Induction Loop. 
Covid guidelines
In line with government guidance, face masks are no longer mandatory and wearing one in our Theatre and at Ri events is at your discretion. Please do continue to observe other Covid-secure measures, such as maintaining a social distance, wherever possible.
Please do not attend the Ri if you are displaying Covid-symptoms and/or are still returning a positive test.
Thank you for respecting other people and their choices, and for helping us keep all of our visitors and staff safe and well.
Event terms and conditions
Booking conditions
Public events
Livestream events
Holiday workshops
Attending Ri events
Events that supersede these terms and conditions