We are delighted to welcome Ri favourite Andrew Szydlo back to the Ri once again for an all-new lecture exploring the amazing, and sometimes explosive chemistry of sulfur. Andrew will take us on a whistle-stop tour of the history of this curious element, from it's discovery in 2000BCE to the present day, recreating some long-lost experiments along the way.
Sulfur has played an important role in science and culture over thousands of years, from creating gold, extracting metals and even creating sweets! Andrew will explore the amazing 4000 year history of this fascinating element in his usual inimitable style, and of course with a desk filled with exciting chemical demonstrations.
This is sure to be an explosive night!
This event is particularly suitable for ages 7+. As with all our family theatre talks, this event is designed to be enjoyed by adults and children together. All young people under the age of 13 need to be accompanied by a paying adult and those aged 4 and above need a ticket to attend.
Event type
This is a theatre event where the speakers and audience are together in our Theatre.
This event will not be livestreamed.
By booking to attend events at the Royal Institution, you confirm that you have read and accept the Ri's event terms and conditions. You also agree to abide by our code of conduct, and help to create a great experience for yourself and your fellow participants. 
Timing
The doors will open at approximately 1.30pm, with a prompt start at 2.00pm.
Latecomers will be admitted into the gallery.
About Andrew Szydlo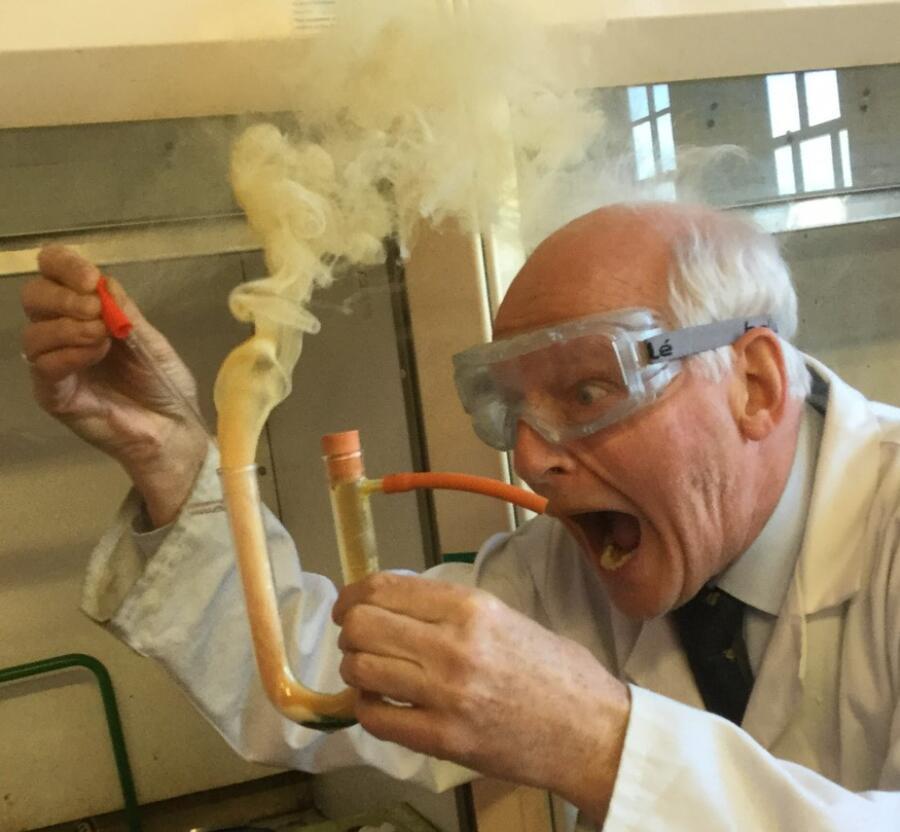 Andrew Szydlo is a chemist and secondary school teacher at Highgate School, well-loved by pupils and Ri attendees alike. He has given public lectures around the country, been featured on TV shows and has become a popular part of the Ri's YouTube channel in recent years, where his videos have over 16 million views in total.
When Andrew started giving chemistry lessons to friends some 50 years ago, he would bring a pocket-full of chemicals to illustrate the principles of chemistry.
Today, these chemistry lessons have evolved into demonstration lectures which he gives to audiences in a wide variety of locations. During the past 40 years he has given over 500 talks, in addition to teaching chemistry full-time at Highgate School in London. Today he is still based at Highgate School, delivering chemistry lectures to local schools.
The Royal Society of Chemistry included Andrew as one of their 175 Faces of Chemistry.
Covid guidelines
Face masks are no longer mandatory and wearing one in our Theatre and at other Ri events is at your discretion, however please do not attend the Ri if you are displaying Covid symptoms or, if you have tested, the result remains positive. Thank you for respecting other people and their choices, and for helping us keep all of our visitors and staff safe and well.
Accessibility
The event will take place on the first floor and there is step-free access from the street via lift.
The closest underground station is Green Park, which is step-free.
There is space at floor level in the theatre for wheelchair users.
Seating is usually unreserved for our events. If you and your group require seating reservations, please do let us know by emailing us at events@ri.ac.uk, and we'll be more than happy to help.
Carers can receive a free ticket to an event by emailing events@ri.ac.uk.
Our theatre is equipped with an Audio Induction Loop. 
Event terms and conditions
Booking conditions
Public events
Livestream events
Holiday workshops
Attending Ri events
Events that supersede these terms and conditions