In the UK, women comprise only a quarter of the STEM workforce, leaving a small group of prominent men to make critical decisions about our future. But why does this matter, and what can we do about it?
Join Anne-Marie Imafidon, founder of the social enterprise Stemettes, promoting women and non-binary people in STEAM careers, will take us on a journey exploring the challenges and opportunities for women in tech. Drawing on her own experience and the work of other pioneers and innovators, Anne-Marie will provide practical solutions, exercises and guidance to help us take control of our roles and the industry's future.
Through a fascinating discussion, discover how to overcome the barriers and get past the gatekeepers, to seize opportunities within the tech world. Dive into this critical topic and leave feeling empowered and ready to tackle the challenges ahead.
Copies of Anne-Marie's latest book 'She's In CTRL: How women can take back tech – to communicate, investigate, problem-solve, broker deals and protect themselves in a digital world' will be available to purchase after the talk.
Event type
This is a theatre event for an adult audience, where the speakers and audience are together in our Theatre.
By booking to attend events at the Royal Institution, you confirm that you have read and accept the Ri's event terms and conditions. You also agree to abide by our code of conduct, and help to create a great experience for yourself and your fellow participants. 
About Anne-Marie Imafidon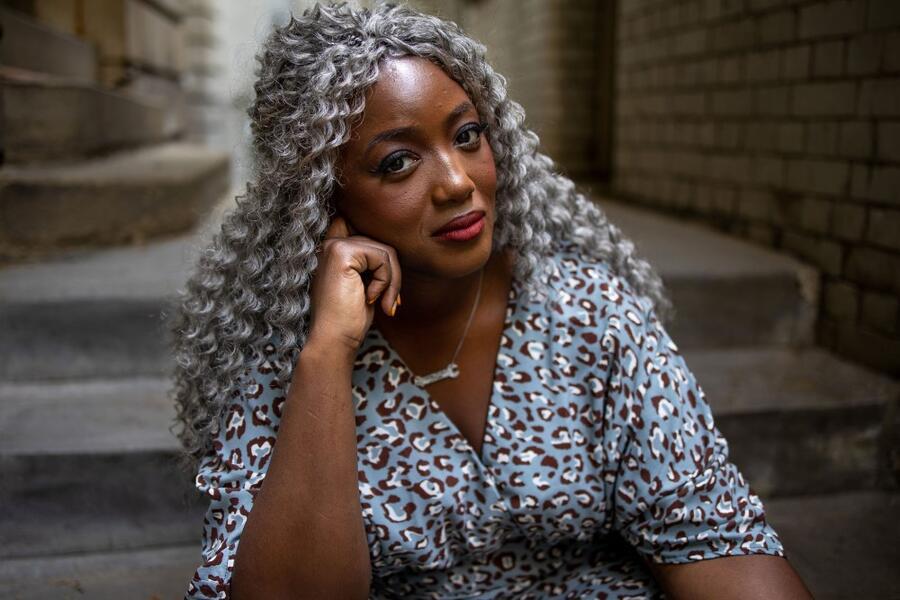 Dr Anne-Marie Imafidon MBE is a prodigy in every sense of the word. Aged 11, she was the youngest girl ever to pass A-level Computing, and was just 20 years old when she received her Master's Degree in Mathematics and Computer Science from the University of Oxford.
In 2013, Anne-Marie co-founded Stemettes, an award-winning social initiative dedicated to inspiring and promoting the next generation of young women in the STEM sectors. Since its inception 10 years ago, it has exposed more than 60,000 girls across Europe to her vision for a more diverse and balanced science and tech community.
A recognised and respected thought-leader, Anne-Marie is the temporary Arithmetician on Channel 4's Countdown, the world's longest running game show and hosts the highly popular Women Tech Charge podcast. Her latest book She's In CTRL was published by Transworld in September 2022.
Anne-Marie has been awarded Honorary Doctorates from the Open University, Glasgow Caledonian University, Kent University, Bristol University and Coventry University as well as an Honorary Fellowship at Keble College, Oxford & Visiting Professorship at Sunderland University. In 2017, she was awarded an MBE in the New Year's Honours for services to young women and STEM sectors.
Timing
Doors to the theatre will open at 6.30pm. The event will begin at 7.00pm.
Accessibility
The event will take place on the first floor and there is step-free access from the street via lift.
The closest underground station is Green Park, which is step-free.
There is space at floor level in the theatre for wheelchair users.
Seating is usually unreserved for our events. If you and your group require seating reservations, please do let us know by emailing us at events@ri.ac.uk, and we'll be more than happy to help.
Carers can receive a free ticket to an event by emailing events@ri.ac.uk.
Our theatre is equipped with an Audio Induction Loop. 
Covid guidelines
Face masks are no longer mandatory and wearing one in our Theatre and at other Ri events is at your discretion, however please do not attend the Ri if you are displaying Covid symptoms or, if you have tested, the result remains positive. Thank you for respecting other people and their choices, and for helping us keep all of our visitors and staff safe and well.
Event terms and conditions
Booking conditions
Public events
Livestream events
Holiday workshops
Attending Ri events
Events that supersede these terms and conditions
The Royal Institution is part of the Amazon Affiliate Programme, and book links on this page may be affiliate links.
It won't cost you any extra, but as an Amazon Affiliate, the Ri will earn a small commission from qualifying purchases.
All proceeds from our affiliate links help support the charitable work of the Ri.