Perhaps the biggest question Stephen Hawking tried to answer in his life was how our universe could have created conditions so perfectly hospitable to life. Pondering this mystery led Hawking to study the big bang origin, but his early work ran into a crisis when the maths predicted many big bangs producing a multiverse – countless different universes, most of which would be far too bizarre to harbour life.
Holed up in the theoretical physics department at Cambridge, Stephen Hawking and his friend and collaborator Thomas Hertog worked shoulder to shoulder for twenty years on a quantum theory of the big bang that could account for the universe's life-friendly character.
As their discovery journey took them deeper into the big bang, they were startled to find a deeper level of evolution in which physical laws transform and simplify until particles, forces, and even time itself fades away. 
Once upon a time, perhaps, there was no time. This led them to a revolutionary idea: the laws of physics are not set in stone but are born and co-evolve as the universe they govern takes shape. 
Join Thomas Hertog in exploring how he and Stephen Hawking published this final theory together, proposing their radical new Darwinian perspective on the origins of our universe. In doing so, Thomas offers a striking new vision that ties together more deeply than ever, the nature of the universe's birth with our existence. This new theory profoundly transforms the way we think about our place in the order of the cosmos and may ultimately prove Stephen Hawking's biggest legacy.
Copies of Thomas' latest book 'On the Origin of Time: My journey with Stephen Hawking into the Big Bang' will be available to purchase at the end of the talk.
Event type
This is a theatre event for an adult audience, where the speakers and audience are together in our Theatre.
This event will not be livestreamed.
By booking to attend events at the Royal Institution, you confirm that you have read and accept the Ri's event terms and conditions. You also agree to abide by our code of conduct, and help to create a great experience for yourself and your fellow participants. 
About Thomas Hertog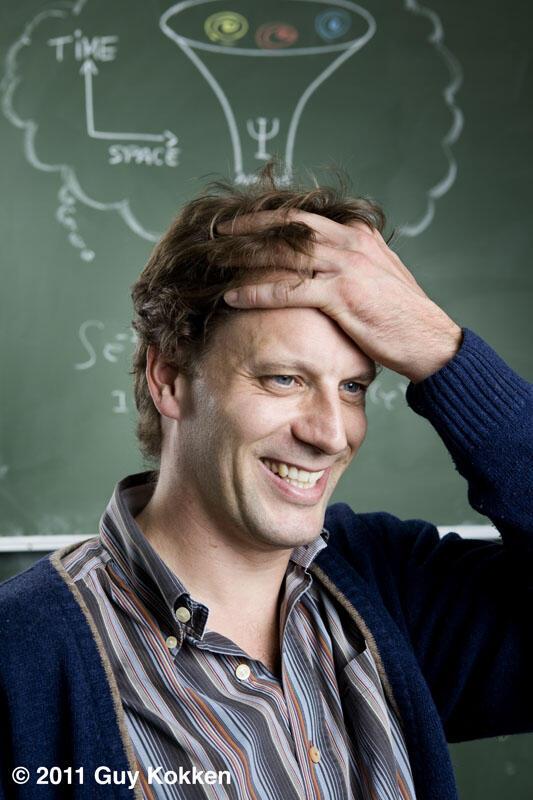 Thomas Hertog is an internationally renowned cosmologist. He received his doctorate from the University of Cambridge and joined the University of California at Santa Barbara in 2002. Currently he is professor at the Institute for Theoretical Physics of the University of Leuven and member of the International Solvay Institutes in Brussels.
Thomas has been a key collaborator of the late Stephen Hawking since 1998. Together they developed a new theory of the big bang origin of the universe. He lives with his wife and their four children in Bousval, Belgium.
Timing
Doors to the theatre will open at 6.30pm. The event will begin at 7.00pm.
Accessibility
The event will take place on the first floor and there is step-free access from the street via lift.
The closest underground station is Green Park, which is step-free.
There is space at floor level in the theatre for wheelchair users.
Seating is usually unreserved for our events. If you and your group require seating reservations, please do let us know by emailing us at events@ri.ac.uk, and we'll be more than happy to help.
Carers can receive a free ticket to an event by emailing events@ri.ac.uk.
Our theatre is equipped with an Audio Induction Loop. 
Covid guidelines
In line with government guidance, face masks are no longer mandatory and wearing one in our Theatre and at Ri events is at your discretion. Please do continue to observe other Covid-secure measures, such as maintaining a social distance, wherever possible.
Please do not attend the Ri if you are displaying Covid-symptoms and/or are still returning a positive test.
Thank you for respecting other people and their choices, and for helping us keep all of our visitors and staff safe and well.
Event terms and conditions
Booking conditions
Public events
Livestream events
Holiday workshops
Attending Ri events
Events that supersede these terms and conditions
The Royal Institution is part of the Amazon Affiliate Programme, and book links on this page may be affiliate links.
It won't cost you any extra, but as an Amazon Affiliate, the Ri will earn a small commission from qualifying purchases.
All proceeds from our affiliate links help support the charitable work of the Ri.