Mathematical models have shaped our world and continue to be at the centre of everything we do. They became headline news as we tackled the COVID-19 pandemic, and are helping us to regulate an increasingly volatile economy and navigate the uncertainties of climate change.
In this talk, policy and models expert Erica Thompson explains the validity of the models we use: what they are, how they work, and the disastrous consequences when the makers and interpreters of models get things wrong.
Discover how our current modelling system is inherently biased towards a particular view of the world, distorting our thinking. Explore the need to better understand mathematical models and be aware of how the assumptions that underlie them, can have significant unintended consequences.
Copies of Erica's latest book 'Escape from Model Land: How Mathematical Models Can Lead Us Astray and What We Can Do About It' will be available to purchase after the event.
Event type
This is a theatre event where the speakers and audience are together in our Theatre.
This event will not be livestreamed.
By booking to attend events at the Royal Institution, you confirm that you have read and accept the Ri's event terms and conditions. You also agree to abide by our code of conduct, and help to create a great experience for yourself and your fellow participants. 
About Erica Thompson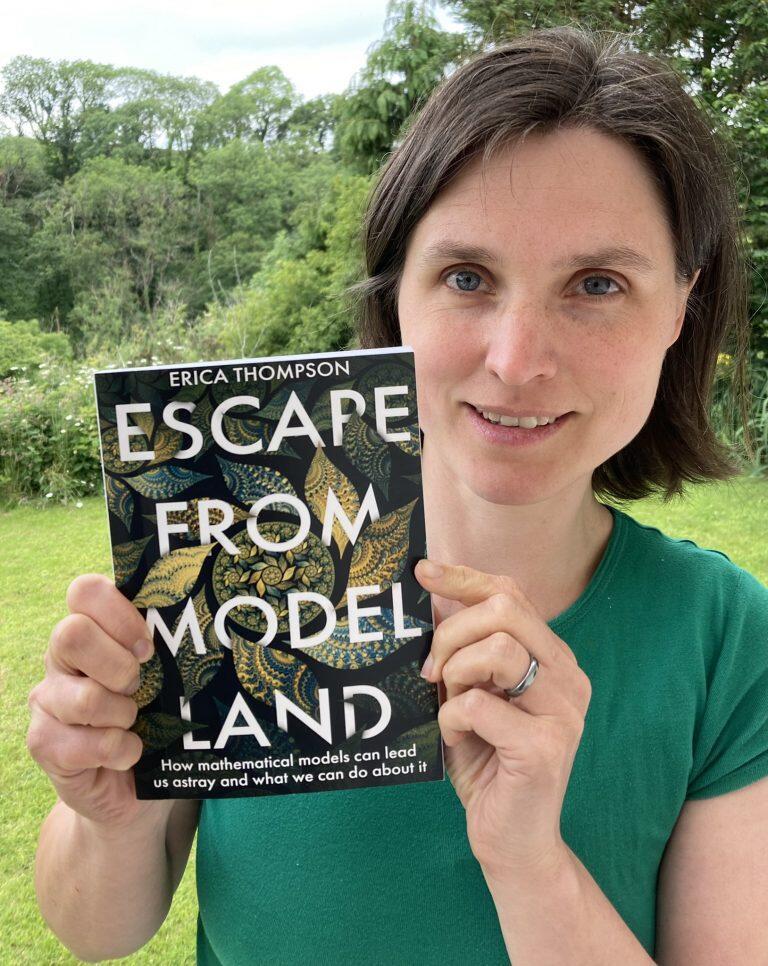 Erica Thompson is a senior policy fellow at the London School of Economics Data Science Institute, a fellow of the London Mathematical Laboratory and an honorary senior research fellow at UCL's Department of Science, Technology, Engineering and Public Policy. With a PhD from Imperial College, Erica works on the use of mathematical modelling to support real-world decisions, specifically on the ethics of modelling and simulation. She has recently worked on the limitations of models of COVID-19 spread, humanitarian crises, and climate change. Erica's previous work includes the UK Department of for Energy and Climate Change's Global Calculator project, where she provided the climate science information. Erica lives in West Wales, and is reducing her own ecological footprint to a "One Planet" level by not travelling to conferences and finding other ways to reach people.
Timing
Doors to the theatre will open at 6.30pm. The event will begin at 7.00pm.
Accessibility
The event will take place on the first floor and there is step-free access from the street via lift.
The closest underground station is Green Park, which is step-free.
There is space at floor level in the theatre for wheelchair users.
Seating is usually unreserved for our events. If you and your group require seating reservations, please do let us know by emailing us at events@ri.ac.uk, and we'll be more than happy to help.
Carers can receive a free ticket to an event by emailing events@ri.ac.uk.
Our theatre is equipped with an Audio Induction Loop. 
Covid guidelines
Face masks are no longer mandatory and wearing one in our Theatre and at other Ri events is at your discretion, however please do not attend the Ri if you are displaying Covid symptoms or, if you have tested, the result remains positive. Thank you for respecting other people and their choices, and for helping us keep all of our visitors and staff safe and well.
Event terms and conditions
Booking conditions
Public events
Livestream events
Holiday workshops
Attending Ri events
Events that supersede these terms and conditions
The Royal Institution is part of the Amazon Affiliate Programme, and book links on this page may be affiliate links.
It won't cost you any extra, but as an Amazon Affiliate, the Ri will earn a small commission from qualifying purchases.
All proceeds from our affiliate links help support the charitable work of the Ri.