Join world-renowned physicist Claudia Maraston and dive into the world of Stellar Population Models. These models observe the spectro-photometric and mass properties of galaxies, and have found widespread applications in astrophysics and cosmology, providing us with the tools to study galaxy formation and evolution both theoretically and through data interpretation.
Claudia will explore how Stellar Population Models are developed, using leading-edge techniques to predict the properties of stars and their evolution over time. You'll discover how these models are used to study the formation and evolution of galaxies, shedding light on the mysteries of the Universe and its origins.
Whether you're an astrophysics enthusiast or just curious, this talk promises to be a fascinating journey through one of the most exciting fields in modern science. So, join us as we unravel the secrets of the cosmos and explore the frontiers of our understanding of the Universe.
Event type
This is a theatre event for an adult audience, where the speakers and audience are together in our Theatre.
By booking to attend events at the Royal Institution, you confirm that you have read and accept the Ri's event terms and conditions. You also agree to abide by our code of conduct, and help to create a great experience for yourself and your fellow participants. 
About Claudia Maraston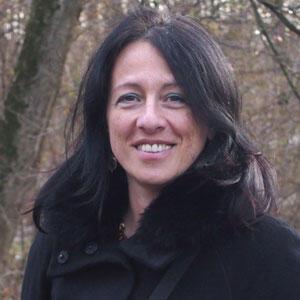 Claudia Maraston the UK's top ranked female physicst. She is a Professor of Astrophysics at the University of Portsmouth.
Claudia obtained her PhD in Astrophysics at the University of Bologna, leading to post-doctoral fellowships at the Ludwig-Maximillian University of Munich and the Max-Planck Institute for extra-terrestrial physics (MPE) in Garching (Germany). She was awarded a Marie-Curie fellowship in 2005 which she spent at the University of Oxford, before joining the University of Portsmouth in 2007 as the recipient of the Marie-Curie Excellence Team Grant.
Claudia designs models for the calculation of spectro-photometric evolution of stellar populations, which are used as a tool to study galaxy formation and evolution both theoretically and through data interpretation. She is the winner of the 2018 Royal Astronomical Society Eddington Medal.
Timing
Doors to the theatre will open at 6.30pm. The event will begin at 7.00pm.
Accessibility
The event will take place on the first floor and there is step-free access from the street via lift.
The closest underground station is Green Park, which is step-free.
There is space at floor level in the theatre for wheelchair users.
Seating is usually unreserved for our events. If you and your group require seating reservations, please do let us know by emailing us at events@ri.ac.uk, and we'll be more than happy to help.
Carers can receive a free ticket to an event by emailing events@ri.ac.uk.
Our theatre is equipped with an Audio Induction Loop. 
Covid guidelines
Face masks are no longer mandatory and wearing one in our Theatre and at other Ri events is at your discretion, however please do not attend the Ri if you are displaying Covid symptoms or, if you have tested, the result remains positive. Thank you for respecting other people and their choices, and for helping us keep all of our visitors and staff safe and well.
Event terms and conditions
Booking conditions
Public events
Livestream events
Holiday workshops
Attending Ri events
Events that supersede these terms and conditions
Are you a patron of the Ri?
As a patron you are offered a number of complimentary tickets, please get in touch with your patron manager to discuss this.