Embark on a captivating exploration into the enigmatic realm of spooky science as we invite you to a riveting demonstration. Prepare to be mesmerised by an amalgamation of educational and awe-inspiring phenomena presented by the Ri demonstration team. Brace yourself for an electrifying odyssey that unveils some of the most intriguing and mysterious scientific wonders.
Witness the creation of eerie fog, where atmospheric conditions are manipulated to generate a supernatural mist. Marvel as pumpkins are transformed into radiant beacons through the artful application of scientific techniques. Experience the exhilaration of hair-raising experiments that defy conventional understanding, leaving you astonished.
From the study of uncanny creatures that thrive in darkness to unravelling the enigmas of the human brain, our Halloween-themed science spectacle promises an enthralling encounter. Enveloped in an atmosphere of intellectual intrigue, this show will entertain and expand your scientific horizons.
Event type
This is a theatre event where the speakers and audience are together in our Theatre.
This event will not be livestreamed.
By booking to attend events at the Royal Institution, you confirm that you have read and accept the Ri's event terms and conditions. You also agree to abide by our code of conduct, and help to create a great experience for yourself and your fellow participants. 
About Dan Plane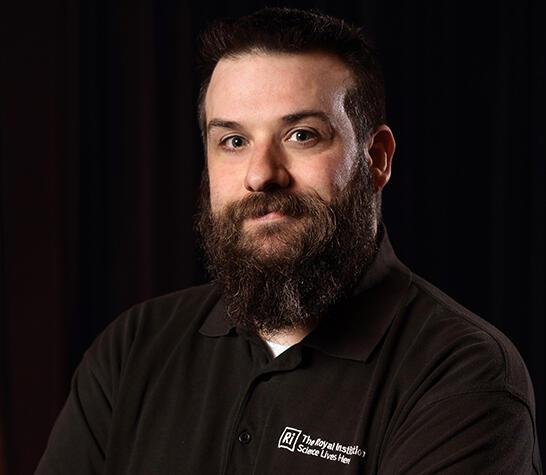 Dan Plane is the Head of Demonstration at the Royal Institution and has worked in education for nearly 20 years. He's been a science communicator for the last eight, and his interest in all areas of science is ever-growing. He especially enjoys bringing fun and excitement to the demonstrations he has created and performed in science centres and schools across the UK.
Dan is all about getting everyone, kids and adults alike, to explore the past, present, and future of science, and is especially proud to be a part of the rich history of science communication here at the Ri.
Timing
Doors to the theatre will open at 6.30pm. The event will begin at 7.00pm.
Accessibility
The event will take place on the first floor and there is step-free access from the street via lift.
The closest underground station is Green Park, which is step-free.
There is space at floor level in the theatre for wheelchair users.
Seating is usually unreserved for our events. If you and your group require seating reservations, please do let us know by emailing us at events@ri.ac.uk, and we'll be more than happy to help.
Carers can receive a free ticket to an event by emailing events@ri.ac.uk.
Our theatre is equipped with an Audio Induction Loop. 
Covid guidelines
Face masks are no longer mandatory and wearing one in our Theatre and at other Ri events is at your discretion, however please do not attend the Ri if you are displaying Covid symptoms or, if you have tested, the result remains positive. Thank you for respecting other people and their choices, and for helping us keep all of our visitors and staff safe and well.
Event terms and conditions
Booking conditions
Public events
Livestream events
Holiday workshops
Attending Ri events
Events that supersede these terms and conditions