Every second of our lives - whether we're looking both ways before crossing the street, celebrating the birth of a baby, or moving to a new city - we must cope with an unknowable future by telling stories about what will happen next.
Where is the future, the place where we set those stories? Can we trust our future stories? And what sort of futures do they show us? Join historian and bestselling author David Christian as he offers an introduction to the strange world of the future.
What we think we know about it at all scales, from the predictive mechanisms of single-celled organisms and tomato plants to the merging of colossal galaxies billions of years from now. Drawing together science, history and philosophy from a huge range of places and times, David will explore how we prepare for uncertain futures, including the future of human evolution, artificial intelligence, interstellar travel, and more.
For all those curious about what the world could look like in the next hundred years and what the solutions to the biggest challenges facing us all could look like, this is an unmissable event.
Event type
This is a livestream event where the speaker and audience come together online. 
You will have priority access to the recorded video for two weeks after the event has taken place.
For more information on livestreams, see the information below, or visit our FAQs page. Please use the event link you have been provided with.  
By booking to attend events at the Royal Institution, you confirm that you have read and accept the Ri's event terms and conditions. You also agree to abide by our code of conduct, and help to create a great experience for yourself and your fellow participants. 
About David Christian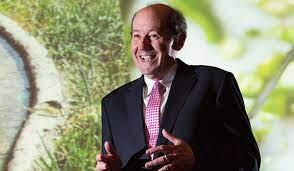 David Christian is a Professor Emeritus at Macquarie University, where he was formerly a Distinguished Professor of History and the director of the Big History Institute. He cofounded the Big History Project with Bill Gates, his Coursera MOOCs are popular around the world, and he is cocreator of the Macquarie University Big History School.
He has delivered keynotes at conferences around the world, including the Davos World Economic Forum, and his TED Talk has been viewed more than twelve million times. He is the author of numerous books and articles, as well as the New York Times bestseller Origin Story.
Timing for the livestream
The live stream will go live at 6.55pm, and the introduction will begin at 7.00pm. If you register but miss the live stream, the video will be available to you via the same link for two weeks after the event date.
Event terms and conditions
Booking conditions
Public events
Livestream events
Holiday workshops
Attending Ri events
Events that supersede these terms and conditions