See food in a whole new light. Find out about the incredible amount of energy contained in the food you eat, in this show packed with exciting chemistry and physics demonstrations.
From fountains of fizzy coke to some rather gross demonstrations of what goes on in your digestive system, this demo-packed show is sure to delight and disgust in equal measure.
This show is presented by Dan Plane, one of the Ri's most popular science presenters. When he is not presenting in our Theatre, Dan travels all around the UK and beyond to bring interactive science shows to students of all ages.
This event is particularly suitable for ages 7+.
Event type
This is a theatre event, where the speaker and audience are together in our Theatre.
This event will not be livestreamed.
By booking to attend events at the Royal Institution, you confirm that you have read and accept the Ri's event terms and conditions. You also agree to abide by our code of conduct, and help to create a great experience for yourself and your fellow participants. 
About Dan Plane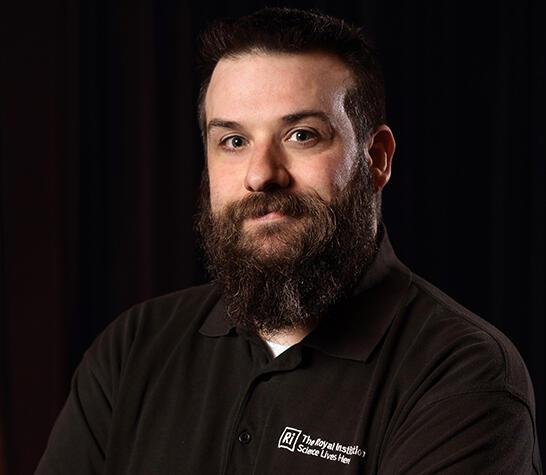 Dan Plane is a Science in Schools presenter for the Royal Institution and has worked in education for nearly 20 years. He's been a science communicator for the last eight, and his interest in all areas of science is ever growing. He especially enjoys bringing fun and excitement to the demonstrations he has been creating and performing in science centres and schools across the UK.
Dan is all about getting everyone, kids and adults alike, to explore the past, present, and future of science, and is especially proud to be a part of the rich history of science communication here at the Ri.
Timing
The doors will open at approximately 1.30pm, with a prompt start at 2.00pm.
Latecomers will be admitted into the gallery.
Covid guidelines
In line with government guidance, face masks are no longer mandatory and wearing one in our Theatre and at Ri events is at your discretion. Please do continue to observe other Covid-secure measures, such as maintaining a social distance, wherever possible.
Please do not attend the Ri if you are displaying Covid-symptoms and/or are still returning a positive test.
Thank you for respecting other people and their choices, and for helping us keep all of our visitors and staff safe and well.
Accessibility
The Theatre is on the first floor and there is step-free access from the street via lift.
The closest underground station is Green Park, which is step-free.
There is space at floor level in the theatre for wheelchair users.
Seating is usually unreserved for our events. If you and your group require seating reservations, please do let us know by emailing us at events@ri.ac.uk, and we'll be more than happy to help.
Carers can receive a free ticket to an event by emailing events@ri.ac.uk.
Our theatre is equipped with an Audio Induction Loop. 
Event terms and conditions
Booking conditions
Public events
Holiday workshops
Attending Ri events
Events that supersede these terms and conditions