Origami has some surprising uses in science and engineering. From self-assembling robots and designer materials to large deployable structures in space.
Join Mark Schenk to find out how the Japanese art of paper folding can be applied to science and technology and what the future might hold.
This event is particularly suitable for ages 10+
This event is supported by the Embassy of the Kingdom of the Netherlands.The Netherlands and the United Kingdom share a long history of scientific exchange and collaboration.
The Netherlands treasures and stimulates these excellent relations, especially in an era where complex societal challenges are not contained by borders, not even the stretch of water between us as North Sea Neighbours.
The solutions that these challenges demand international collaboration in research and ongoing exchange of scientific ideas
Event type
This is a theatre event for an adult audience, where the speakers and audience are together in our Theatre.
This event will not be livestreamed.
By booking to attend events at the Royal Institution, you confirm that you have read and accept the Ri's event terms and conditions. You also agree to abide by our code of conduct, and help to create a great experience for yourself and your fellow participants. 
About Mark Schenk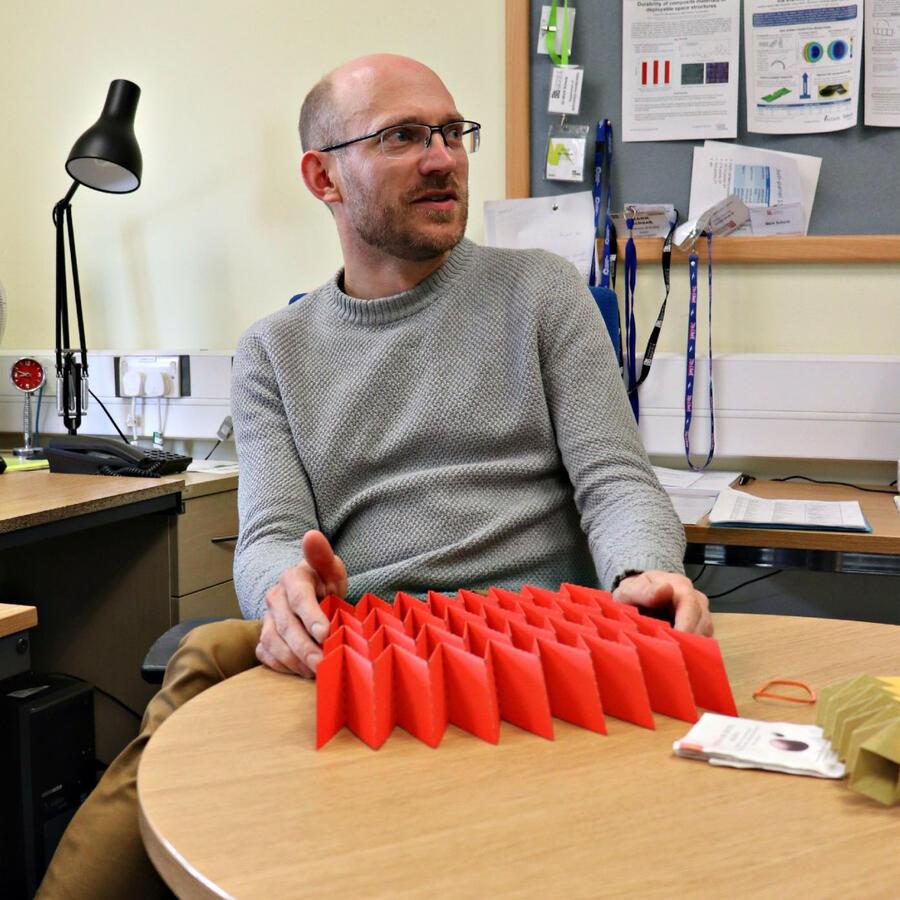 Mark Schenk is Senior Lecturer in Aerospace Engineering at the University of Bristol. 
Mark's research interests currently cover structural mechanics, shape-adaptive engineering origami, compliant/morphing/deployable structures and experimental methods for nonlinear structures.
Timing
Doors to the theatre will open at 1.30pm. The event will begin at 2.00pm.
Accessibility
The event will take place on the first floor and there is step-free access from the street via lift.
The closest underground station is Green Park, which is step-free.
There is space at floor level in the theatre for wheelchair users.
Seating is usually unreserved for our events. If you and your group require seating reservations, please do let us know by emailing us at events@ri.ac.uk, and we'll be more than happy to help.
Carers can receive a free ticket to an event by emailing events@ri.ac.uk.
Our theatre is equipped with an Audio Induction Loop. 
Covid guidelines
In line with government guidance, face masks are no longer mandatory and wearing one in our Theatre and at Ri events is at your discretion. Please do continue to observe other Covid-secure measures, such as maintaining a social distance, wherever possible.
Please do not attend the Ri if you are displaying Covid-symptoms and/or are still returning a positive test.
Thank you for respecting other people and their choices, and for helping us keep all of our visitors and staff safe and well.
Event terms and conditions
Booking conditions
Public events
Livestream events
Holiday workshops
Attending Ri events
Events that supersede these terms and conditions
Are you a patron of the Ri?
As a patron you are offered a number of complimentary tickets, please get in touch with your patron manager to discuss this.