Join us for an illuminating discourse by renowned synthetic inorganic chemist and president of the Royal Society of Chemistry, Gill Reid, as she delves into the fascinating realm of synthetic inorganic chemistry. In this captivating lecture, Professor Reid will shed light on her groundbreaking research on the design and synthesis of novel macrocyclic and multidentate ligands.
Professor Reid's expertise lies in harnessing donor atoms from Groups 15 (P, As, Sb, Bi) and 16 (S, Se, Te) to create innovative ligand architectures. Learn about these ligands' intriguing properties and applications, which are crucial in facilitating coordination chemistry with a diverse array of metal ions from the periodic table's s-, p-, d-, and f-blocks.
An exciting highlight of the lecture will be exploring the practical applications of these cutting-edge ligands in semiconductor deposition and devices. Discover how these ligands contribute to advancements in semiconductor technology, driving the development of next-generation electronic devices and components. Additionally, Professor Reid will uncover the promising potential of metal fluoride complexes as new PET (Positron Emission Tomography) imaging agents in medicine. Through her research, she unveils the remarkable properties of these complexes, offering a glimpse into the future of non-invasive medical imaging and diagnostic tools.
This engaging discourse is a must-attend event for researchers, students, and enthusiasts eager to grasp the forefront of synthetic inorganic chemistry. Take this opportunity to gain insights into macrocyclic ligands, metal complexes, and their exciting applications in scientific and technological domains.
Event type
This is a theatre event for an adult audience, where the speakers and audience are together in our Theatre.
By booking to attend events at the Royal Institution, you confirm that you have read and accept the Ri's event terms and conditions. You also agree to abide by our code of conduct, and help to create a great experience for yourself and your fellow participants. 
About Gill Reid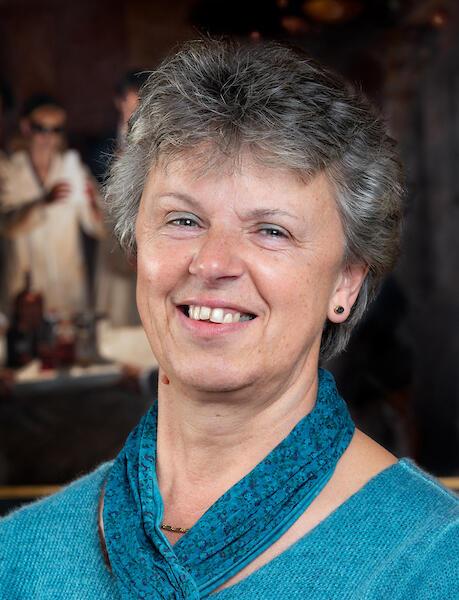 Gill is a Professor of Inorganic Chemistry at the University of Southampton and served as Head of the School between 2016 and 2020.
Born and raised in Central Scotland, Gill obtained her BSc and PhD at the University of Edinburgh before being appointed to a lectureship in Chemistry at Southampton in 1991. She became a professor in 2006.
Her group's research focuses on synthetic coordination and organometallic chemistry and is motivated by fundamental studies of new ligand types that explore the influence of metal-ligand combinations on properties and reactivity, as well as more application-driven targets. Particular areas of interest are developing reagents for chemical vapour deposition and electrodeposition for the controlled growth of functional semiconducting thin film and nanostructured materials. Metal chalcogenides have critical technological applications, such as solid-state memory, thermoelectric energy harvesting, and battery materials. She also works on developing metal-chelate scaffolds for binding the fluorine-18 radioisotope towards new positron emission tomography (PET) imaging agents and has published over 350 research papers.
She is the current President of the Royal Society of Chemistry (2022 - 2024). She served as an elected Trustee of the Society (2011-15) and chaired the Outreach Working Group until 2018.  She is a Fellow of the Royal Society of Chemistry, a Fellow of the Royal Society of Edinburgh, a Fellow of the European Academy of Sciences and a recipient of the IUPAC 2023 Distinguished Women in Chemistry.
Timing
Doors to the Theatre will open at about 6.50pm.
We try and have all attendees must be seated in the Theatre by 7.25pm. The Discourse will start at 7.30pm.
A Pay Bar will be available from 6.00pm. It will open again after the talk, until 9.30pm.
More about Discourses
Discourses are one of the Ri's oldest and most prestigious series of talks. Since 1825, audiences in the theatre have witnessed countless mind-expanding moments, including the first public liquefaction of air by James Dewar, the announcement of the electron by JJ Thomson and over 100 lectures by Michael Faraday. In more recent times, we have had Nobel laureates, Fields medal winners, scientists, authors and artists – all from the cutting-edge of their field. Discourses are an opportunity for the best and brightest to share their work with the world.
Steeped in nearly two centuries of tradition, a Discourse is more than just a lecture. To keep the focus on the topic, presenters begin sharply at 7:30pm without introduction and we lock the speaker into a room ten minutes ahead of the start (legend has it that a speaker once tried to escape!). Some of our guests dress smartly for our Discourse events to add to this sense of occasion.
Find out more about the history of the Friday Evening Discourses on our blog.
Accessibility
The event will take place on the first floor and there is step-free access from the street via lift.
The closest underground station is Green Park, which is step-free.
There is space at floor level in the theatre for wheelchair users.
Seating is usually unreserved for our events. If you and your group require seating reservations, please do let us know by emailing us at events@ri.ac.uk, and we'll be more than happy to help.
Carers can receive a free ticket to an event by emailing events@ri.ac.uk.
Our theatre is equipped with an Audio Induction Loop. 
Covid guidelines
Face masks are no longer mandatory and wearing one in our Theatre and at other Ri events is at your discretion, however please do not attend the Ri if you are displaying Covid symptoms or, if you have tested, the result remains positive. Thank you for respecting other people and their choices, and for helping us keep all of our visitors and staff safe and well.
Event terms and conditions
Booking conditions
Public events
Livestream events
Holiday workshops
Attending Ri events
Events that supersede these terms and conditions