Michelle Reeves blog - 1
Thursday 8 January
As I write this, it's getting towards the last week of my internship here at the Royal Institution. I'm going to miss this place a lot. It's become like a second home – partly due to the amount of hours spent here during the CHRISTMAS LECTURES, but mostly because of the welcoming nature of the place, and the people – it feels like I'm part of their big family now.
This is a special place for science. Even though my work has died down a bit in the new year, since the filming & broadcast of the Lectures, everyone else here is still very busy. As I sit at my desk, I hear Kate, the other CHRISTMAS LECTURES Assistant, in the next office, excitedly telling someone about some crazy idea in her characteristically bubbly way. Earlier, Sean, Dave and Liz from the L'Orèal Young Scientist Centre were running around preparing for a science education conference they've gone to. Debs and Martin on the Public Programme team are busy answering phone calls from people wanting to book tickets to the wonderful array of events on offer this spring. The Mathematics, Engineering and Computer Science Masterclasses teams are similarly busy answering calls and queries. Oly, the Science Learning Manager, is already having meetings about the 2015 CHRISTMAS LECTURES. Gail, the Director of Science and Education, is hopping from meeting to meeting, keeping this place running smoothly. And that's just what I can see and hear from one office – there are other offices full of other similarly dedicated people doing what they can to help run the Ri and to promote science to people of all ages.
I've never worked anywhere like this, where everyone is passionately working towards the same goal – to communicate science effectively, to make it accessible to everyone, and to make it fun. I'm sure some longer-serving staff members will laugh when I say this, but from my perspective it seems like a well-oiled machine – people just working together to be the best that the Ri can be.
Working on the CHRISTMAS LECTURES has been one of the best experiences of my working life so far. Sitting in every rehearsal, I saw how each Lecture changed and took shape over the weeks before the recordings, how everything slowly came together (and sometimes fell apart again just as we were due to record!). I got to be one of the people pretending to be volunteers for Danielle's demos, having competitions to make up ridiculous names. I was privileged to meet so many people through the Lectures – Danielle, the Windfall team, Dallas Campbell, some of the film and lighting crew – and I'm now lucky enough to call some of these people my friends.
Friday 16 January
Today is my last day. Seems strange to think I won't be coming back here on Monday morning! To say I'm going to miss everyone here is an understatement. But I know I'll be coming back to help out with events every so often, so they won't get rid of me that easily!
Working at the Royal Institution has really been an amazing experience, and I'm so grateful to everyone there for having me. Doing a internship has been a welcome break from my PhD, giving me a different perspective on it and time away to think about a few problems I'd been having. So, I'll be returning to PhD-land next week feeling refreshed and energised – but very sad to be leaving the Royal Institution behind. Thanks to everyone there I've worked with for making every day so much fun. I'll be back whenever you need an extra pair of hands (or dragging to the pub!), I promise!
I'll leave you with a few of my favourite photos from the my time here.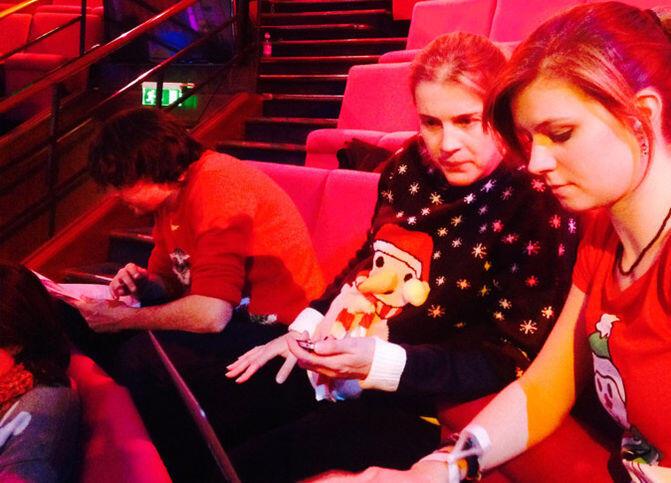 Going through some script and prompt changes with Danielle during the technical rehearsal (where Christmas jumpers were required!)