Sarah Barnard, born on 7 January 1800, was the fifth child (out of nine) of Edward Barnard (1767–1855) and Mary Boosey (1769–1847). Edward Barnard owned one of the largest silversmith companies in London; he was also a full member of the small congregation of the Sandemanians, a neo-Calvinist sect of literalist Christianity, who met in Paul's Alley. The year after his daughter's birth he would become a Deacon in the Church, and from 1821 to 1844 served as an Elder.
We know nothing about Sarah's early life or education but it is safe to assume that she would have met the laboratory assistant at the Royal Institution, Michael Faraday (1791–1867) in Paul's Alley; she made her Confession of Faith in the Church when she was nineteen. Her elder brother Edward Barnard (1796–1867) knew Faraday well through a self-improvement essay writing group to which they both belonged. In some of his essays he criticised the notion of love, which Edward mentioned to his sister and thus seems to have piqued her interest. This resulted in Faraday, nearly ten years older, declaring his ardour in a letter to her of 5 July 1820 and more or less proposing marriage. Of this letter her father commented that 'love made philosophers into fools' and she departed for Ramsgate to avoid making a decision. At the end of July Faraday followed her there. After a tense beginning he remained and by the time of his departure they had become engaged.
They were married on 12 June 1821 at her parish church of St Faith in the Virgin near St Paul's Cathedral; his banns were read at St George's, Hanover Square. (Until the introduction, in 1837, of civil registration of births, marriages and deaths everyone in England, aside from Quakers and Jews, were required by law to marry in an Anglican church, a major affront to the consciences of dissenters). Shortly after their marriage Faraday made his Confession of Faith and later served as Deacon and Elder.
Faraday, who already had rooms in the Royal Institution, negotiated extra accommodation for his new wife in exchange for his taking on the additional responsibilities of Superintendent of the House. They lived there for the rest of Faraday's life, although they spent less time there following the Queen providing Faraday with a Grace and Favour house at Hampton Court in 1858.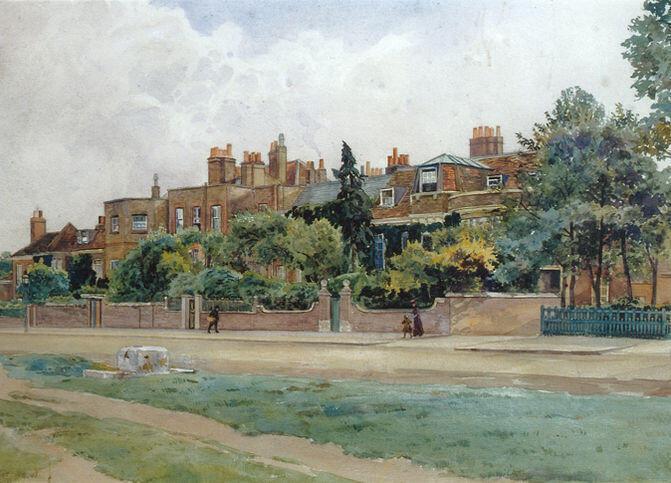 Faraday's Grace & Favour House in Hampton Court where he and Sarah spent a large portion of their time. This was the Master Mason's house, later called Faraday House, and now No.37 Hampton Court Road, Image credit: Royal Institution
Both there and at the Royal Institution they were joined for extended periods (of many years) by a number of nieces. Unlike the vast majority of Sandemanian couples, the Faradays did not have any children – in total their siblings produced more than eighty nieces and nephews. The most significant was Jane Barnard (1832–1911) who was a daughter of the marriage of Faraday's younger favourite sister and another of Sarah's brothers.
Sarah undertook the duties usually associated with being mistress of a house, for instance, managing the servants on the domestic side of the Royal Institution. By the 1850s she was in far from good health and indeed from a photograph taken of them then one would not think she was ten years younger than him. Nevertheless, as Faraday's health declined in the mid-1860s she and Jane also took over many of his administrative roles in the Royal Institution.
So far as one can tell, for evidence is sparse, they enjoyed a happy marriage, Faraday once commenting to Sarah that she was 'a pillow to my mind'. It is clear from Faraday's letters that she was well liked by his scientific colleagues such as the Swiss chemist Christian Schoenbein and the great German organic chemist Justus Liebig with whom she walked round the Botanic Garden in York when the British Association met there in 1844. She was more worldly than Faraday and more ambitious for him than he was, but once he had made a decision with which she was not in agreement, for example when he declined the Presidency of the Royal Institution in 1864, she would defend him stoutly.
Following Faraday's death in August 1867, Sarah had to leave both the Royal Institution and Hampton Court. She and Jane settled in Islington where most of the London Sandemanian community lived. There they laid the foundations for future Faraday studies, donating many of his manuscripts to appropriate repositories and making some available to his earliest biographers: John Tyndall (1820–1893), Henry Bence Jones (1813–1873) and John Gladstone (1827–1902), all of whom had known Faraday. Sarah died the day before her seventy-ninth birthday and rejoined her husband in the unconsecrated part of Highgate Cemetery.