I applied to intern at the Ri as I had just finished the first year of my PhD and had enjoyed getting involved in many in-person science events. I hoped this internship would give me a better understanding of the online world of science communication⁠—and it did. 
I learnt about the YouTube algorithm, social media engagement and how to create exciting graphics that draw in an audience. Skills I would never learn in a lab, but I'm sure will be helpful in sharing my research with wider audiences.  
During my time in the Digital team, I was given relatively free rein to get involved with the projects that excited me the most. This led to me speaking to an expert in the field of forensics in my first week of work and creating an animated video on a topic I previously knew nothing about, blood spatter, with support from the team.  
I was also able to come up with and develop my own projects. I chose to put my own spin on 12 days of Christmas by photoshopping my cat onto various figures from the Ri's history. This gave me the opportunity to grow my copywriting skills, learn more about the 200+ years of Ri history, and learn how to use Photoshop.
This project generated over 130,000 views.
In addition to these projects, I also had new experience in the field of digital video, from filming lectures streamed live, to creating short clips of interesting Ri lectures.
I was able to create social media content from science that interested me, such as why the Mimosa plant moves when its leaves are touched.  
By getting involved in so many different projects I don't think a single day was ever the same throughout my internship. 
Although my role was not directly involved with the Christmas Lectures, like many others in the building I was drawn into the excitement and spent a few days helping with the creation of a demonstration. I also got the opportunity to meet Sue Black, this year's Christmas Lecturer and an incredible science communicator.
Seeing her work and learning what it takes to inspire your audience and captivate their interest was amazing. 
My advice to any future interns would be to keep an open mind, and say 'yes' to any opportunity that comes your way. I have had a great three months working at the Ri seeing all the different aspects that go into building and growing an audience on social media.
I have particularly enjoyed attending the lectures, learning about completely new topics such as sharks and black holes whilst seeing many great communicators at work.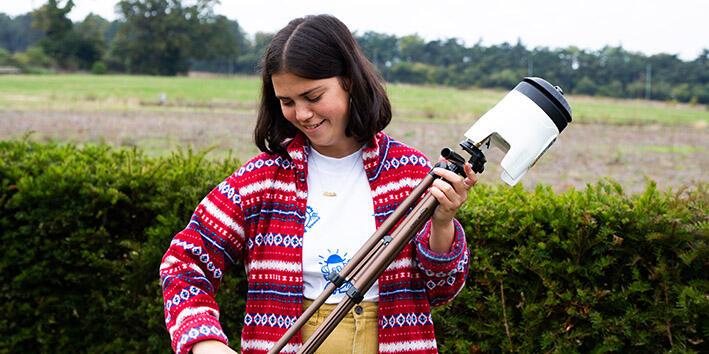 Image credit: Earlham Institute
About the author
Mia Berelson is a PhD Student who recently completed a 3-month internship at the Royal Institution. Her PhD is based at the Earlham Institute and is funded by UKRI-BBSRC as part of the Norwich Research Park Doctoral Training Programme. You can find her on Twitter.