Scientists have always used models. Since the ancient Ptolemaic model of the universe through to renaissance astrolabes, models have mapped out the consequences of predictions. They allow scientists to explore indirectly worlds which they could never access.
Join Sir Richard Catlow as he explores how high-performance computing has transformed the way comprehend our world. From testing hypotheses at planetary scale to developing a personalised approach to supercharging the fight against Covid.
In the first Discourse since the pandemic interruption, Sir Richard explores systems beyond our imagination with specially developed demos and historical objects from our collection.
Event type
This is a Theatre event, where the speaker and audience in our Theatre are joined by an online audience.
Tickets to attend in person or to watch the livestream are both available from this page.
About Sir Richard Catlow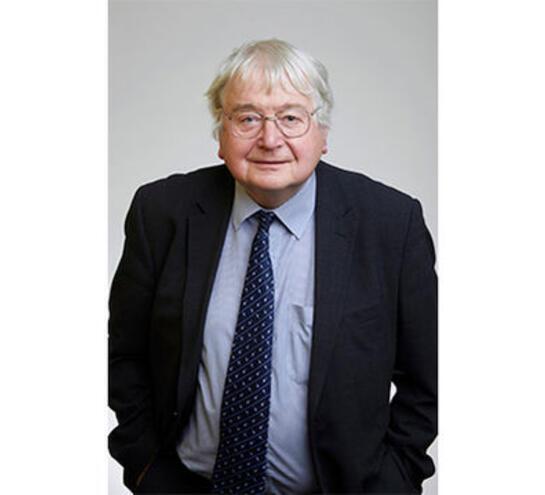 Sir Richard Catlow was educated at Clitheroe Grammar School and Oxford University and has spent his career as a scientist working in interdisciplinary fields relating to the development of functional materials for energy and catalytic technologies.
Richard was one of the pioneers in the development and application of computational tools in chemistry and materials science. He has published extensively, and his work has been recognised by election to the Fellowship of the Royal Society, the German National Science Academy and by several awards.
More about Discourses
Discourses are one of the Ri's oldest and most prestigious series of talks. Since 1825, audiences in the theatre have witnessed countless mind-expanding moments, including the first public liquefaction of air by James Dewar, the announcement of the electron by JJ Thomson and over 100 lectures by Michael Faraday. In more recent times, we have had Nobel laureates, Fields medal winners, scientists, authors and artists – all from the cutting-edge of their field. Discourses are an opportunity for the best and brightest to share their work with the world.
Steeped in nearly two centuries of tradition, a Discourse is more than just a lecture. To keep the focus on the topic, presenters begin sharply at 7:30pm without introduction and we lock the speaker into a room ten minutes ahead of the start (legend has it that a speaker once tried to escape!). Some of our guests dress smartly for our Discourse events to add to this sense of occasion.
Find out more about the history of the Friday Evening Discourses on our blog.
Event timings
Please be aware that this Discourse starts at 7.30pm, but all attendees must be seated in the theatre by 7.20pm. 
The doors will open at approximately 6.45pm.
Accessibility
The Theatre is on the first floor and there is step-free access from the street via lift.
The closest underground station is Green Park, which is step-free.
There is space at floor level in the theatre for wheelchair users.
Seating is usually unreserved for our events. If you and your group require seating reservations, please do let us know by emailing us at events@ri.ac.uk, and we'll be more than happy to help.
Carers can receive a free ticket to an event by emailing events@ri.ac.uk.
Our theatre is equipped with an Audio Induction Loop. 
Covid guidelines
In line with government guidance, face masks are no longer mandatory. But while Covid-19 cases remain high, we recommend that face coverings are worn in our Theatre and at Ri events. Please also continue to observe other Covid-secure measures, such as maintaining a social distance where possible.
Please do not attend the Ri if you are displaying Covid-symptoms and/or are still returning a positive test.
Thank you for respecting other people and their choices, and for helping us keep all of our visitors and staff well.
Event terms and conditions
Booking tickets
Public events
Holiday workshops
Attending Ri events
Events that supersede these terms and conditions