Martin Kemp is Emeritus Research Professor in the History of Art at Trinity College, Oxford University. He is one of the world's leading experts on visualisation in art and science, and the art of Leonardo da Vinci.
Martin was trained in Natural Sciences and Art History at Cambridge University and the Courtauld Institute, London. His 25 books include, The Science of Art. Optical Themes in Western Art from Brunelleschi to Seurat (Yale), and The Human Animal in Western Art and Science (Chicago). He has published and broadcast extensively on Leonardo da Vinci, including the prize-winning Leonardo da Vinci. The Marvellous Works of Nature and Man and Leonardo (both Oxford). His Christ to Coke. How image becomes icon (Oxford) looks at 11 representatives of types of icons across a wide range of public imagery.
Martin wrote regularly for Nature, his essays for which have been published as Visualizations and developed in Seen and Unseen (both Oxford) in which his concept of "structural intuitions" is explored. His most recent books are Art in History (Profile Books) and Mona Lisa with Giuseppe Pallanti (Oxford). Living with Leonardo (Thames and Hudson) was published in March 2018. In 2019 his publications will include a co-authored book on Leonardo's Salvator Mundi.
He has been a Trustee of the National Galleries of Scotland, The Victoria and Albert Museum and British Museum. He has curated and co-curated a series of exhibitions on Leonardo and other themes, including Ca 1492 at the National Gallery in Washington, Spectacular Bodies at the Hayward Gallery in London, Leonardo da Vinci. Experience, Experiment, Design at the Victoria and Albert Museum in 2006 and Seduced. Sex and Art from Antiquity to Now, Barbican Art Gallery London, 2007. He is now full-time speaking, writing and broadcasting.
Larry Keith is Head of the Conservation Department at the National Gallery. His work is the conservation, restoration and technical study of Old Master paintings, working in collaboration with colleagues from the Gallery's Scientific and Curatorial Departments.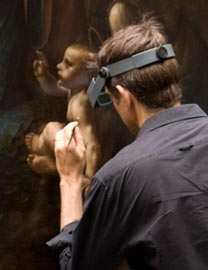 Larry received a post-graduate diploma in the conservation of easel paintings from the Hamilton Kerr Institute, Cambridge, following a BA in Art History from Oberlin College. He joined the National Gallery in 1991 after working with Hebert Lank in London and John Brealey at the Metropolitan Museum. He is a member of the International Advisory Board of Studies, Department of Conservation and Technology, Courtauld Institute of Art, University of London. He is an advisor for the Bank of America Art Conservation Program, the Heritage Conservation Trust, and a member of the Advisory Board of the Wallace Collection Reynolds Project.
Larry was recently a member of the international Commission for the Restoration of the Virgin and Child with Saint Anne by Leonardo da Vinci, organised by the Département des Peintures du Musée du Louvre with the Centre de Recherche et de Restauration des musées de France.
Martin and Larry will be in conversation with former Nature editor and best selling author Philip Ball, who has written widely on the interactions between art and science.