Two hundred years ago, Michael Faraday demonstrated his invention of the world's first electric motor in the theatre of the Royal Institution.
We are inviting you to share in this heritage and help secure the Ri's future by making a donation which we will acknowledge by naming a seat in our world-famous theatre – one seat for every year since Faraday's world changing discovery.
Naming a seat is a unique way to celebrate your love of science and to support the charitable work of the Royal Institution.
It's also an opportunity to honour or remember someone special, and a wonderful way to inspire future generations by dedicating a seat to a young person.
Become part of the Ri's history and future by naming a seat
We have 200 seats available and for a donation of between £300 and £5000 you will be acknowledged with a named plaque for five years.
The Royal Institution's vision is for a world where everyone is inspired to think more deeply about science and its place in our lives. Your philanthropy helps us make this a reality.
Find out more about 200 seats for 200 years
Fill in our enquiry form to find out more about how you can name a seat in our iconic Theatre.
How to donate
Donate by credit or debit card, cheque, or BACS
Please download and complete our donation form and return by email to development@ri.ac.uk or by post to:
The Development Team
The Royal Institution of Great Britain
21 Albemarle Street
London
W1S 4BS
Get in touch
For more information, please get in touch with us on +44 (0)20 7491 6575, at development@ri.ac.uk.
Theatre seating plan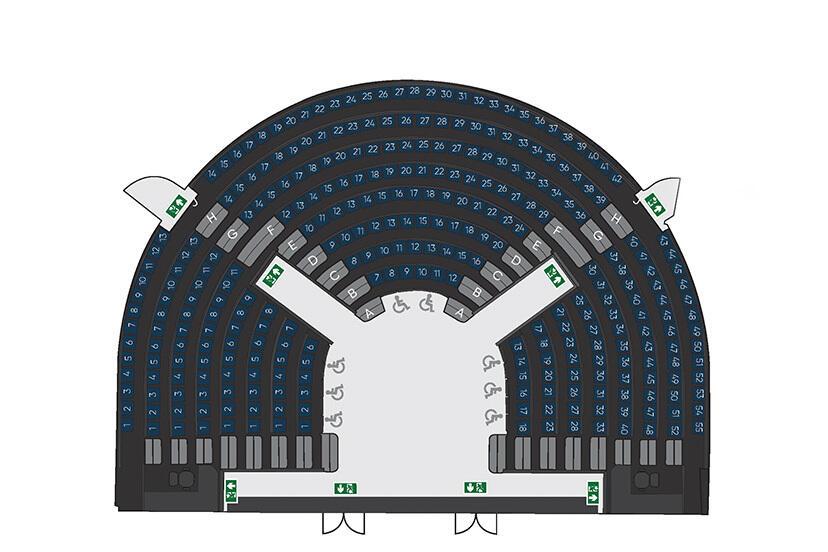 Seat options
Donation £5000 – row B for 5 years
Donation £3000 – row C for 5 years
Donation £2000 – row D for 5 years
Donation £1500 – row E for 5 years
Donation £1000 – row F for 5 years
Donation £750 – row G for 5 years
Donation £500 – row H for 5 years (only a few left)
Donation £300 – row J for 5 years (only a few left)
Terms and conditions
Your donation is acknowledged with a seat that is named for a period of 5 years, after which the Royal Institution reserves the right to make the seat available to re-name.  We will endeavour to contact you before this expiry date to give you an opportunity to name it again
The dedication must be the name of an individual(s) or 'In Memory of'. Please provide the chosen names up to a maximum of 50 characters over two lines (25 characters per line), including spaces
Your chosen dedication will be engraved on a plaque, and it will be attached to a seat in the row selected
The supporter named on the seat does not own the seat at any point. The seat will remain the property of the Royal Institution
Naming a seat does not include admission to talks, lectures or events or guarantee allocation of that seat
Seats cannot be reserved
Please note that seats are subject to availability and on a first-come, first-served basis
You cannot change the name you have chosen to be engraved after confirmation with the Development team, or after the name has been engraved on the plaque
You will receive an email confirmation of your donation once we have received your donation
You will also receive in the post a naming acknowledgement certificate with a photograph of the named plaque
You may choose to name a seat as a gift for a friend or loved one. Certificates can be sent to the recipient or to the donor
If seats at specific donation levels are no longer available, the Ri might consider releasing further seats to continue raising much-needed income for its charitable work